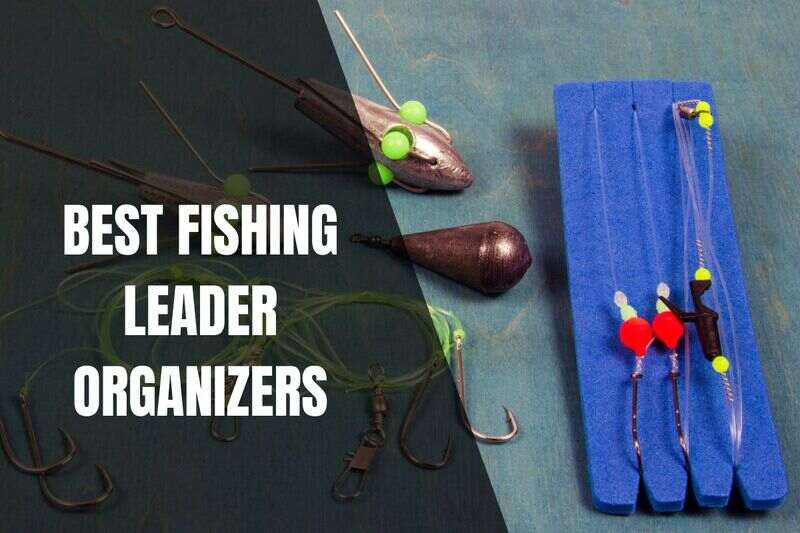 There are so many great options when it comes to properly storing your fishing leaders and lures.
Over the years, anglers alike have used various materials such as EVA foam boards and even the spools that their fishing line came on.
Today, many of the most popular organizers use these same well-respected storage methods to keep your prized fishing equipment safe and secure.
What Are The Best Fishing Leader Organizers?
Here are my top picks for the best fishing leader organizers that you need to try.
Best Budget Leader Organizer
Brian's Thoughts
One of the easiest and most affordable ways of storing your leaders and tippets is to use a leader wallet.
These pocket-sized storage units resembles a nylon wallet which has 10 sleeves for storing leaders.
The overall size of each sleeve is 4" x 4", and when the wallet is fully opened, it is 10" x 5.5". It is manufactured from high-quality polyethylene and is durable and waterproof. Although it feels like a cheap fabric wallet that you would give a child, it is nevertheless perfect for keeping your lines and your leaders dry and well organized.
Best of all, the Velcro strips allow it to be easily opened and closed.
Pros
Perfect for Storing Leaders
Great for Storing Tippets
10 Sleeves for Storing Leaders
Made Polyethylene
Waterproof
Durable
Keep Your Lines and Leaders Dry
Saltwater-Safe Construction.
Velcro Closure
Get Your Aventik 10 Pockets Fly Fishing Leader Wallet Today!
Best Leader Organizer for Use on Boats
Brian's Thoughts
Designed to attach just about any non-porous surface, this popular leader organizer comes in 2 different sizes.
The smaller version can hold up to 3 spools, while the larger version can handle 5 spools at one time.
The unit is designed to load and unload with the simple twist of a lever, and the suction cups allow you to mount and move the storage unit to where it is most convenient for you. Because of the suction cup mounting capabilities, it is perfect for use on boats.
There will be no need to drill any holes, and it can even be hung from the ceiling.
The best part about this storage unit is that it is designed to work with all of the popular spools made by manufacturers like Stren, Berkley, Deep Blue, and many more.
Pros
Suction Cup Mounts
Works in Any Position
Holds Up To 5 Wrist Spools
Cons
Requires A Non-Porous Surface
Get Your Deep Blue SK-5 Spool King Leader Today!
Best Organizer for Professionals
Brian's Thoughts
When it comes to storing all of your favorite lures and leaders, only one storage unit makes the process easier than ever.
The Kwik-Lure and Leader Keeper is one of the best organizers that will help you to keep your lures and leaders from getting tangled. It is simple enough for even a beginning angler to use but is designed for the wear and tear that a seasoned pro can offer.
All you need to do is to place the hook into the keeper and wind it onto the spool with ease.
There is even a handy rubber wedge that will keep the leader stuck on the spool as it hangs from the track. You have your choice of mounting options, as it comes with both screws and suction cups.
Pros
Great for Trolling Lures
Features 9-Inch Spools
12 keepers With Track and Suction Cups
Cons
More Expensive Than Other Options
Get Your DU-BRO Fishing Kwik-Lure and Leader Keeper Today!
Best Leader Organizer With Hooks
Brian's Thoughts
Sometimes the best way to organize your leaders and lures is to go with an old-school storage method.
This leader hook storage unit allows you to lock up to 20 fishing hooks at a time on the board for easier storage.
Each of the storage positions features a high-quality stainless-steel spring that is corrosion resistant and makes storing the hook a lot easier.
The board itself is made of extremely durable ABS plastic, the same type of plastic that is used by auto manufacturers to build bumpers on cars.
There are a wide variety of colors available to choose from, so you can match your storage board with the rest of your tackle and gear.
Pros
Wide Range of Applications
Made of High-Quality ABS
Equipped with A Spring
Get Your Gourami Fishing Leader Holder Today!
Best For Keeping Leaders Organized
Brian's Thoughts
As one of the most unique lures and leader organizers available today, you will find that its 28 pre-tied leader capacity is far greater than many other products.
Although excellent at storing leaders, if it is secured incorrectly, the leaders tend to get tangled up. It will take a while to get used to store your lures and leaders properly in this dispenser, but there are a number of excellent YouTube videos that will provide you with step-by-step instructions.
When done right, it will be easy to store your leaders away, whether you have 5 or 25.
Pros
Holds Up To 28 Pre-Tied Leaders
Protects and Organizes Your Leaders
Very Easy to Load
Super Strong Box made
Cons
Leaders Tend to Get Tangled
Get Your Leader Feeder Pre-Tied Fishing Leader Dispenser Today!
Best Leader Organizer for Beginners
Brian's Thoughts
Nothing beats the old school options when it comes to proper storage of lures and leaders.
Many anglers, both novice and professional, use EVA boards to easily store their leaders.
This popular foam board is constructed of high-quality EVA foam, allowing you to seat your hooks into the foam and wrap the leaders around the board itself.
Keep in mind that when first received, the EVA foam will have a very strong odor to it, so make sure to air it out for several days before you put it in your tackle box.
When you are ready to use, you can wrap up to 20 leaders on each color-coded board and even use a sharpie to identify the lines.
You will not be able to choose the colors of the board that you received, as they will be sent randomly.
Pros
10 Pieces
EVA Foam Construction
Cons
Mixed colors, sent randomly
Get Your TOASIS Fishing Leader line Holder Foam Board Today!
Best Bang for the Buck Fishing Leader Organizer
Brian's Thoughts
There are many great ways to store your leaders and lures, but sometimes the easiest way is to color code everything.
When most organizers and storage units are designed to use other manufacturers' spools, this popular unit features its own color-coded spools, complete with a neodymium magnet locking mechanism.
It's easy to spool up your favorite leaders, organize them by color, and keep them safe in this high-quality polycarbonate case. It is designed to be extremely tough and abrasion resistant. More importantly, the non-slip surface makes it easy to use even if your hands are covered in slime.
The organizer comes complete with clamshell storage boxes that are located on both sides in order to hold your extra lead sinkers and other fishing tackle that is needed.
All in all, you will find that the MEEYO Fishing Line Rigging Spools Line Leader Organizer is a very attractive option among the diverse alternatives available today.
Pros
Multicolor
Saves Space
Powerful Magnets
Comfortable and Non-slip
Multifunction
Cons
Magnet Attract More Than Hooks
Get Your MEEYO Fishing Leader Spool Organizer Today!
Most Compact Leader and Tippet Organizer
Brian's Thoughts
If you prefer to store your leaders fully rigged up then nothing beats a Nirvana Leader Rig Holder.
Each storage disk is 7 mm thick, making them far thinner and more compact than other common foam wheels that can be found on the market today. They are also specifically designed to make it a lot easier to store your favorite lures and leaders with ease.
There are a series of line locking tabs located all around the rim so you can secure your leader regardless of how long it is. Best of all, there is also a bar that allows you to seat your hook in a way that will protect your fly from damage.
Each order comes with 4 pieces, each of a different color, allowing you to better organize your leaders by color.
The lighter-colored center home is also easy to write on with a sharpie, allowing you to mark each of your leaders individually for reference purposes.
One interesting aspect of this popular storage disk, is the ability to store multi-fly nymph rigs.
Pros
Easy Color Coding
7MM Thick
High Line Capacity
Easy Line Winding
Hook Bar
Line Locking Tabs
Get Your Nirvana Fishing Leader Rig Holder Today!
Most Compact Leader and Tippet Organizer
Brian's Thoughts
When it comes to quality fishing supplies, everyone has come to know and trust Plano.
Like most other popular Plano products, this leader organizer is a high-quality unit, but is larger than the standard Plano spool box. As a result, it is an excellent option for storing braided leaders, as well as other longer and thicker lines.
You will find that the organizer is capable of holding up to 6 spools and is transparent to make identifying the individual spools within the box and easier process.
Best of all, it comes complete with its own convenient carrion handle, allowing it to be carried independently of the rest of your utility boxes.
Pros
Holds 6 Leader Spools
Rubber Line Guides
Transparent
Convenient Carry Handle
Secure Latch Closure
Get Your Plano 108700 Leader Spool Box Today!
How Do I Keep My Fishing Leader Organized?
There was a day when anglers would simply leave their leader on their line and hook it to the guide. However, that can actually damage the pole over time.
This is why more and more anglers are using leader organizers such as wallets, spools, and other devices to help organize large quantities of pre-rigged leaders. Many excellent lure and leader organizers are available on the market today.
How do you store fly fishing leaders?
When fly fishing, it's important to make sure that you keep the fly safe from potential damage while it is inside your tackle box. This is why many fly fishermen choose to use a special design storage units that can safely house a fly, as well as the rest of the leader line.