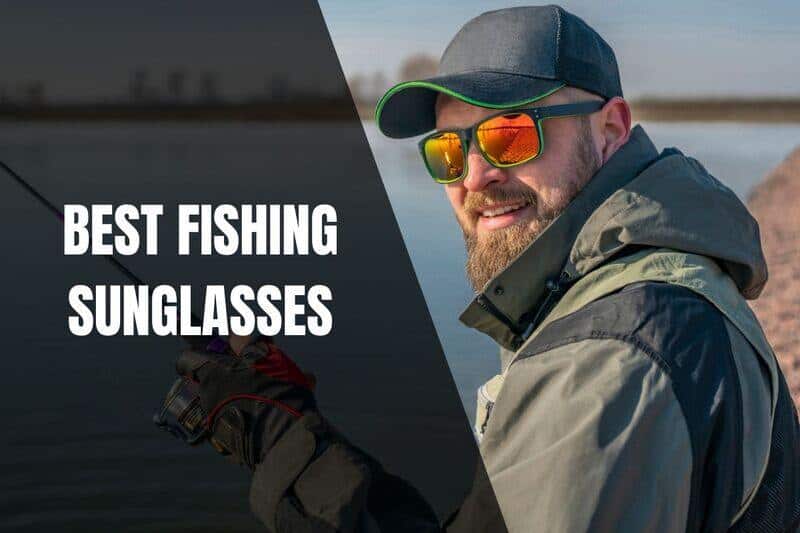 Choosing the best fishing sunglasses to wear is important to know not only for your overall eye health but comfort as well. The sun's UV rays can potentially damage your eyes over time. Not to mention, I heard that squinting too much may lead to wrinkles and is uncomfortable. Wearing the best fishing sunglasses that meets your particular needs is essential.
In this guide, I reviewed and ranked the best fishing sunglasses you should wear when fishing.
UV rays have been linked to numerous eye diseases over the long term. This is why many optometrists recommend using sunglasses to protect your eyes against irreversible damage.
If you want to minimize your odds of developing damage to your eyes, then you need to wear the best fishing sunglasses!
What are the Best Fishing Sunglasses?
Here are my top picks for the best fishing sunglasses that you need to try.
Best Fishing Sunglasses Overall
Brian's Thoughts
If you're looking for a pair of sunglasses that is not only fashionable but also provides great eye protection then look no further.
Costa Del Mar is a well-known and highly respected manufacturer that provides high-quality sunglasses.
The Blackfin Realtree Sunglasses from Costa Del Mar does just that, and you will never have to worry about them going out of style with their classic and timeless look.
These sunglasses provide you with great protection against the sun. Costa uses a proprietary formula that is applied to the lens that can protect against a large wide of UV rays. Additionally, the glasses are designed to shield your eyes from the sides and top of the glasses.
When choosing your pair of Blackfin Sunglasses, you can pick between different len colors and len's type (Glass or Polycarbonate).
Not to mention the adjustable nose piece is a nice touch so that you can easily adjust how the glasses sit on your face on the spot.
Pros
UV protection (up to 400 nm wavelengths)
Lens are polarized to reduce glare off reflective surfaces, like water, resulting in increased eye comfort.
Can pick between polycarbonate lenses (580P) for lightweight lenses or glasses for better clarity and scratch resistance.
Glasses are built with high-quality materials than their competitors using thick and strong plastic for the frame, stainless steel hinges to prevent rust, and the option to have lenses made from glass instead of plastic lenses.
Cons
Expensive
Polycarbonate lens stretches easily
Sometimes the rubber nose piece can come off
Get Your Costa Del Mar Blackfin Realtree Today!
The Best Budget-Friendly Sunglasses For Fishing
Brian's Thoughts
Regardless if you are a seasoned angler or a beginner you've probably heard of the KastKing brand.
If you thought KastKing only makes fishing lines, then you would be wrong. They have done a great job in providing a budget-friendly pair of sunglasses without the high cost.
Obviously, the material and overall construction will not be as robust as some of the premium options out there but what would you expect for a cheaper pair of fishing sunglasses?
What is impressive to me is that the design of these shades makes good use of what they have to work with. Also, if you think you are getting reduced UV protection and eye comfort, then you would be wrong.
These sunglasses meets and exceeds all the regulations set for UV protection for your eyes, so you don't have to worry about sacrificing UV protection.
Pros
Provides Excellent UV Protection exceeding the USA's UV protection requirement
Excellent polarization to reduce glare and make for better eye comfort.
Lightweight sunglasses
Cons
The UV and polarizing tint is coated on the lens rather than infused in the material. Therefore the coating will scratch off if you are not careful.
The lenses will scratch fairly easily if you are not careful
No nose support
Has a tendency to slip off the face if you sweat a lot.
Get Your KastKing Hiwassee Sport Sunglasses Today!
Best Fishing Sunglasses For Protection And Comfort For Fishing.
Brian's Thoughts
Maui Jim is a premium brand that has origins in Hawai where the sun always shines, and water sports is a way of life.
So you know Maui Jim major focus besides manufacturing stylish shades is to be an industry leader in eye protection against UV rays while providing the utmost eye comfort.
Maui Jim is a top brand when it comes to polarized and UV-blocking sunglasses. The Peahi sunglasses do just that.
These sunglasses are a bit on the pricey side, but for the high level of eye protection, you get its worth it. They use top-notch materials to make their lens and coating to make this happen.
Pros
Superior Clarity and eye protection
Looks very stylish.
Rubber pad on the nose piece to prevent the glasses from sliding
Anit corrosive springs and hinges making it great for saltwater.
The lenses are made of glass making them more durable and scratch resistant.
Cons
Not many options for different len's colours
Expensive
Get Your Maui Jim Peahi Today!
Do you need polarized sunglasses for fishing?
Polarized sunglasses are not required, but it's highly recommended. Polarized sunglasses will block the glare off of reflective surfaces and intense sunlight providing you with more eye comfort, less eye strain, no more squinting, and good clarity when looking at the water.
Does polarized lens color matter?
Polarized lens colours do affect good the lens will block glare and sunlight. Depending on what you are doing outside and the weather, different colours will work better than others. Grey lens seems to be the best colour to get if you want a colour that has an excellent overall performance.
Which is better UV or polarized sunglasses?
Polarized Sunglasses reduces the sun's intensity and glare improving eye comfort but does not block UV rays. UV blocking sunglasses minimize UV rays from entering your eyes but do not reduce the intense sunlight and improve eye comfort. Many sunglasses today are both polarized and UV blocking.