Many travellers who love to fish while on vacation might be wondering the same question "can you take fishing gear on a plane?" Imagine being an angler surrounded by several magnificent fishing holes without bringing your fishing lure. 
In this article, we will look into popular airline requirements for the USA, Canada, UK, and Australia and find out the answer to the question: are fishing rods allowed on an airplane? 
So, stick around to find out more about the requirements of each airline. And learn some of my tricks and trades for effectively packing your fishing equipment for travel.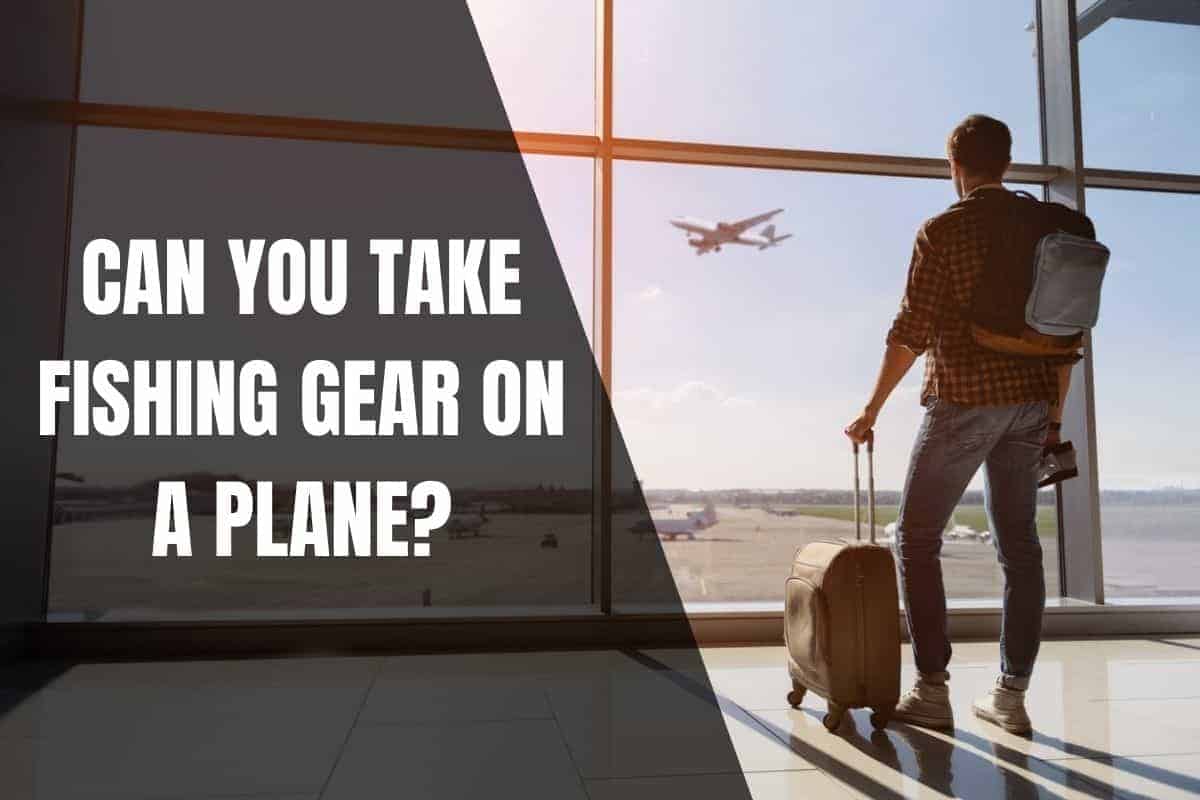 Can I Take My Fishing Rod On a Plane?
As an angler myself, I could not imagine leaving home on a coral-filed tropical vacation without bringing my favorite lucky fishing rod along for the ride. But just like many of you might be wondering. I asked myself the same question the first time I travelled with my fishing gear, can fishing rods be carried on a plane?
Although every airline has different guidelines outlining their restrictions for carrying fishing equipment onboard. The good news is that you can travel with your fishing gear. Most airlines also let you take your fishing rod along as a carry-on. 
When I travel, I like to pack my fishing rods in a carrying case to prevent them from becoming damaged during transportation. I have never had a problem with being allowed to bring my rods on the plane as a carry-on. To help keep your fishing rods securely in place, you can tape them together before placing them in the case as added protection. 
Most airlines are good with anglers bringing their gear onboard. Even if you can not bring it on as a carry-on, you might ask yourself can we take a fishing rod in checked baggage on our flight? 
No worries, you can still check your fishing rods on a plane as sports equipment in your checked baggage. Bringing your fishing rods in checked baggage is an excellent alternative for heavier equipment, such as weights and sinkers. 
So, if you are wondering, can you take fishing weights and sinkers on a plane? The answer is yes. But, I recommend putting them in your checked luggage so you will not have to lug them around the airport. By putting them in your checked baggage, you can avoid paying an extra fee for added carry-on bags that some airlines might charge.
My Top Four Fishing Rod Carrying Cases for Worry-free Travel
Here is a closer look at some of the best carrying cases perfect for bringing your favorite fishing gear. Because, if you are an angler, no trip would be complete without bringing your fishing rods along. Here are my top choices of carrying cases that will help provide an adequate solution for how to take fishing poles on an airplane.
PLANO Airliner Telescopic Rod Case
This carrying case is an excellent option to pack your fishing rods in before airplane travel. Most airlines will allow you to carry this carrying case on the plane as a carry-on. This case is of heavy, durable plastic that keeps your precious fishing gear protected during the flight to your sunny destination.
This travel case can extend to 88 inches long and is of a durable three-tier design. The Plano carrying case can store up to eight average-sized fishing poles. If you are an angler who likes to use a big rod, this case might store fewer rods, depending on their size.
The only downside to this case is that it is not padded. It is still an incredible option. But, I recommend wrapping or taping your rods to prevent damage. This case does not have a built-in lock either. Therefore, if you are not taking it as a carry-on, I would suggest buying a small locking mechanism for it to prevent theft or misplacement of your favorite fishing rods.
"This was exactly what I was looking for as I will be traveling to Mexico for sport fishing. My friends down south who are in fishing clubs were impressed by the design and quality. They want to know if this ships international, if not I'll be buying a couple more for them on my next flights down there"

An Amazon Review
Flambeau Outdoor Bazuka Pro Rod Tube
This carrying case is 5 inches wide and expands from 63 to 87 inches in length for ample storage space for your fishing rods. For your convenience, you can adjust the length of the Flambeau case without having to open it. 
Although this case does not have padding on the sides, it is padded on both ends with a layer of foam for extra protection of your precious fishing gear. The Flambeau also does not have a built-in locking system. So it is advised to purchase a small locking mechanism to put on it to provide extra protection.
This carrying case is the perfect option if you are looking for a reliable fishing rod case. But, you do not want to spend a fortune paying for it.
"These tubes are a must for any angler who travels alot."

An Amazon Review
Flying Fisherman Passport Travel Rod Case
This carrying case is of a soft fabric shell that includes removable foam pads for added protection of your fishing equipment. It has a comfortable shoulder strap and a handle for extra comfort when carrying your fishing rod around the airport.
This travel bag is 6 inches wide by 30 inches long and can store up to 12 fishing rods. Unfortunately, this carrying case does not include a built-in lock either. So it is recommended that you purchase a small locking mechanism to put on for extra protection of your valuable fishing rods.
The Flying Fisherman is the perfect option to use as a carry-on. I would not recommend placing this bag in your checked luggage because of its soft casing. However, it is an exceptional choice as a cost-effective carry-on solution.
"This case is awesome for travelers."

An Amazon Review
Goture Travel Fishing Rods Casting Spinning Rod with Case 
This travel rod kit is the perfect addition to your vacation. The Goture travel rod case is cost-efficient and comes complete with four fishing rods. This lightweight and portable case is ideal for anglers who love to travel.
This fishing rod case is of quality thermoplastic ABS (Acrylonitrile Butadiene Styrene) material built for strength and safety. An ideal solution for the angler. Who is not quite willing to take their fishing gear on the plane. But they are looking for an affordable alternative to enjoy their fishing adventure at their vacation destination.
The portable, lightweight Goture travel case also comes with a one-year warranty that promises to send a replacement part or kit if yours breaks. It sounds to me like this fishing case is a win, win for every angler on their next trip away.
"This is my go-to rod for snook fishing off the beach."

An Amazon Review
Rules For Checking Your Fishing Rods  
Various airlines have different guidelines about the requirements of travelling with fishing rods. It is always an excellent idea to check airline restrictions before travel. This way, you can find out the airline's policies regarding "can you take a fishing rod on a plane."
Checking with TSA (Transportation Security Administration) guidelines is also an excellent idea before travel. It is always wise to know what to expect. So, there are no surprises when you arrive at the airport.
Many airlines have specific restrictions about the length of fishing rods allowable in your carry-on luggage. They also might have restrictions about the number of fishing rods allowed to bring with you on the plane. Check out the requirements of the airline you are travelling with before packing your bags.
Some airlines include fishing gear as sports equipment and allow passengers to check their fishing equipment at a reduced price or even for free. While other airlines charge a fee ranging from $25 to $100 per fishing rod. Certain airlines even charge a checked baggage fee for bringing fishing gear on the plane. For instance, American Airlines charges a checked baggage fee for bringing fishing equipment. 
This can become an expensive trip if you are not prepared for the extra fees. So, before travelling, make sure to look into all the hidden fees, and know the facts associated with travelling with your fishing equipment.
Pros and Cons of Bringing a Fishing Rod on Plane
Just like everything else you do, there are consequences. Bringing your fishing rods on your vacation has both advantages and disadvantages. It is ultimately up to you to decide if the benefits of bringing them along outweigh the risks. Here is a list of pros and cons when deciding if you should bring a fishing rod on a plane.
Pros:
You get to use your favorite fishing gear on your holiday
You do not have to look for fishing rods while on vacation
You will save money on renting equipment for fishing abroad
The convenience of having fishing equipment with you
Cons:
There are special rules you need to follow to bring fishing gear on the plane
Your fishing gear risks being lost or damaged onboard
You risk having your bag searched at customs
It might cost you extra money to bring your fishing gear with you
Can You Take a Fishing Reel On a Plane?
A fishing reel is the cranking mechanism attached to your fishing rod. Fishing reels are used for casting out and reeling in your fishing line. Most fishing reels usually offer speed control features for the speed and tension of your fishing line that prevent your line from snapping during fishing.
Seeing that reels are not made of any dangerous parts, you shouldn't have any trouble bringing your fishing rod and reels through airport security. I would strongly advise taking them on the plane with you in your carry-on bag to avoid any damage or loss as checked baggage. 
However, if the reels are too large to fit in your carry-on bag, make sure to securely pack them so they will not get damaged during transit. I prefer to pack my larger fishing reels in their original case and wrap them with clothing from my suitcase for extra padding. 
Some airlines also require you to remove the line from your reels if you are taking them in your carry-on bag. For this reason, it is less of a headache to just pack them in with your checked-in luggage.
Can You Take a Fishing Line on a Plane?
Although the fishing line is generally fairly inexpensive and easy to replace, it is allowed on an airplane. This saves you the hassle of finding a place to buy more fishing lines when you arrive at your destination. 
Fishing lines can safely be stored in your checked baggage. However, if you plan to try putting in your carry-on, you should know that some kinds of lines are not allowed. They might be confiscated at customs. 
Braided fishing lines are one type of fishing line that you can not take in your carry-on bags. So, to save yourself the trouble of having it confiscated, it is probably wiser to just put it in your checked luggage.
Taking precautions is easier than the hassle of waiting for your carry-on baggage to be searched at customs. Therefore, most anglers take their fishing line with them in their checked bags.
Can You Take Fishing Knives on a Plane?
Whether You are flying Canadian airlines, the U.S., or international, this rule is the same regardless of the airline. Knives of any kind that are larger than 6 cm are not allowed in your carry-on bags.
If you are travelling within Canada, the U.S., or internationally a knife that is longer than 6 cm must be carried in your checked luggage. It is also up to the screening officer whether or not the item will be allowed to pass inspection checkpoints. 
Knives that open with force, such as switchblades or butterfly knives are strictly prohibited by most airlines. If you are caught travelling with these restricted items, you will be prosecuted.
Can You Take Fishing Lures on a Plane?
Although fishing lures may appear dangerous and sometimes risk being flagged at customs. They are typically allowed to be placed in your carry-on bag at most airports. Just make sure that they are wrapped securely and properly stored in your carry-on bag to avoid any problems going through the airport security. 
It might also be a wise idea to check the requirements of the specific airline that you will be travelling with to make sure they allow you to carry fishing lures in your carry-on. Otherwise, you can always pack them in your checked luggage and have them ready for you to use when you get to your destination.
Other Types of Fishing Gear Allowed on Plane
Here are some other questions you might be curious about when considering travelling with your fishing gear onboard an airplane en route to your next sunny destination.
Can you take fishing hooks on a plane?
The answer is yes. Fishing hooks that are under 6cm can be kept in your carry-on bag as long as they are well-secured. However, fishing hooks that are over 6 cm should be kept inside your checked luggage. 
On most airlines, small fish hooks used for fly fishing or small freshwater fish are acceptable to carry in your carry-on bag as long as they are safely wrapped and contained in the bag. But, larger hooks must be kept in your checked baggage.
Can you take fishing tackle boxes on a plane? 
Fishing tackle boxes are allowed on the plane as a carry-on as long as the hooks and tackle are secure and on a smaller scale. Otherwise, it is always best to play it safe and store your tackle box in your checked baggage to be on the safe side.
Can you take fishing tools on the airplane?
Fishing tools are also allowed to be carried in your travel bag, such as line snips, and forceps, as long as they are under seven inches long. You can also carry any kind of angler clothing on the plane such as boots, gloves, waders, and hats. It is always best to pack scissors or any type of knives in your checked baggage to avoid confiscation at custom checkpoints.
Most importantly, just use your common sense when packing your fishing gear to take on vacation. If you have to question yourself as to whether or not it is safe to take in your carry-on, it's probably best to place it in your checked baggage. Or check with the airline before packing it.
Can I take a fishing rod as hand luggage?
Another question you might ask yourself is, can I hand carry a fishing rod on an airplane? The answer to this question is no. A fishing rod must be contained within a carry-on bag to be permitted on an airplane. More than one rod can also be placed in the same case. Fishing rods can also be placed in your checked baggage.
Guidelines According to Popular Airlines
Every airline has its own rules. So here is a summary of the restrictions of a few popular airlines. 
Air Canada
Air Canada considers fishing gear as sports equipment and they are more than happy to accept fishing rods on their flights. They invite all passengers to register their sporting equipment 24 hours before your flight by contacting their reservations. No extra fees are charged as long as you do not go over the bag allowance.
With this airline, sports equipment bags can not contain any personal items, such as clothing. They must only include your sports equipment in them. Fishing rods have to be stored in a bag specially designed for travel. If otherwise packaged, items risk being turned away at customs. 
If packed separately, these fishing items count as baggage toward the maximum amount of checked bags per flight:
Fishing rod in a case plus the tackle box
Tackle bag plus fishing reels
Fishing net
Fishing boots
One life jacket is allowed in carry-on and your checked bag
Two carbon dioxide cylinders or other suitable gas 
WestJet
WestJet airlines accept any sporting equipment that meets the following guidelines.
A maximum length of 9.8 feet is allowed on the plane
Equipment follows all baggage guidelines
Fees apply when applicable. Check out their baggage and service fees
Collapsible rods are allowable as a carry-on bag
You must pack rods in hard containers for checked bags
One container can hold more than one fishing rod
A tackle box and a fishing rod are considered a set
American Airlines 
If you are willing to consider international Airline travel, American Airlines also accepts fishing equipment with the following restrictions.
Fishing rods and reels contained in a case
One bag containing your fishing tackle
You can bring a fishing net on the plane
You are allowed to bring one pair of fishing boots
Two pieces of separate fishing equipment count as one bag
American Airlines charges a fee for checked baggage. This airline fee includes the cost of your fishing equipment. Two separate fishing items count as one carry-on bag. Some various sizes and weights also apply to your baggage allowance. Extra fees will be charged for overweight bags. The maximum length of fishing rod cases allowed on the plane is 126 inches. Fishing bags must be under 50 pounds and 62 inches long.
British Airways
British Airways also allows passengers to board the plane with fishing gear considered sporting goods. But, passengers cannot bring their fishing gear in addition to their free checked baggage. The following guidelines apply when travelling with fishing supplies.
All fishing gear properly packed
All fishing gear must meet size restrictions
Any overweight items shipped as cargo
Passengers pay a fee for items that weigh over 23kg 
They offer a paid allowance to take more than one checked bag
Happy Fishing and Tight Lines