Telescopic rods address the ageless challenge of fishing rods: Transporting them safely and conveniently to a fishing destination. Telescopic rods address that challenge and provide a highly portable and functional fishing rod while taking up a minimum of space. Are telescopic fishing rods any good, though?
Yes. Telescopic or collapsible fishing rods are a very convenient way of transporting fishing rods while minimizing the risk of breaking them, getting them snagged in brush, or having them damaged during vehicle transport. Because they are so reliable, the real question should be which telescopic fishing rod is best for everyday fishing?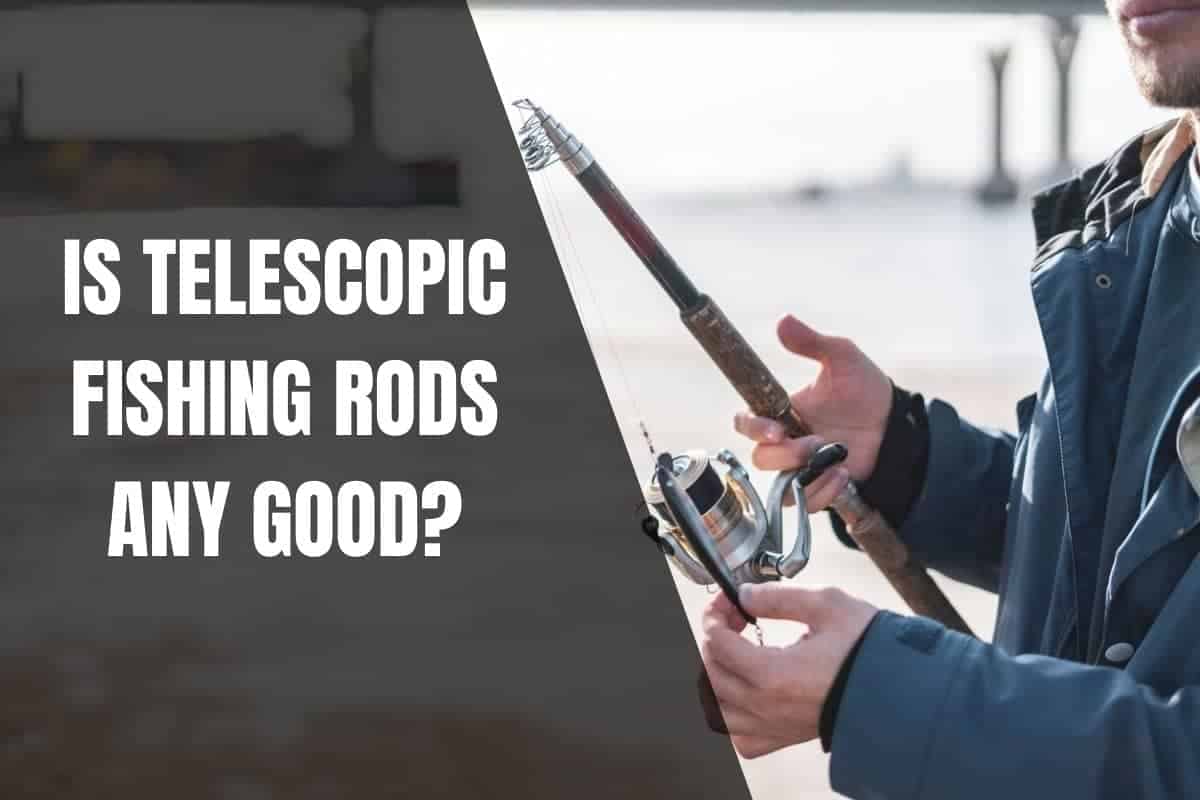 Telescopic Fishing Rod History
Everett Horton filed the first patent for a telescopic fishing rod in 1887. Up until then, fishing rods were long, unwieldy, hard to transport in the bush, and, in Horton's case, impossible to hide when he was sneaking away on Sunday to go fishing. Horton's idea was very popular, and by the early 1900s, it was mass manufactured.
There were two problems with Horton's invention. First, fishing purists did not like it, which created a challenge getting the rod in front of people. Second, while Horton's rod was stellar in quality, many knock-offs over the subsequent decades were made of less quality materials, did not hold up well to repeated use, and had a lot of weak spots. 
By the 1980s, telescopic rods were a novelty, something the angler with everything had at least one of because they were interesting. While there were still high-end telescopic rods, most of those on the market were clunky, prone to break, and difficult to open, lock in place, and then close. The average telescopic rod was also flimsy and fragile.  
Since then, however, as fishing has become more popular, the need for conveniently stored and transported fishing poles has risen dramatically. That prompted many manufacturers to up their game and align with Horton's initial vision of a quality, collapsible fishing pole that could compete with any other type of fishing pole.
Telescopic Rods Today
Telescopic fishing rods today are known for being as high quality as any other rod out on the market. Manufacturers have fixed problems like segment socket locks jamming and segments failing to collapse properly. The composite materials that make up the rod shaft now are as good as anything on the market. 
The consumer still should be careful and do their homework, but one can use a telescopic rod as their primary rod if they so choose. The only time you may reconsider that decision is if you are fishing for very large fish. Telescopic rods can handle large fish, but the strength of a single-piece fishing rod is an advantage a telescopic rod (or a two-piece rod) does not possess.
What to Know About Telescopic Rods Today
Telescopic rods today are higher quality than any telescopic rods from about the mid-1960s through the early 2000s. However, you do want to verify a few things before making a purchase.
First, check out the rod, rod handle, eyelets, and reel foot and verify that everything is in the right place and firmly affixed. If anything is loose or seems off, do not assume it is supposed to be that way. Find another pole or work with a customer service representative to address the issue. 
Second, open, lock, and close the rod several times. Telescopic rods can sometimes have issues being opened and closed repeatedly. Make sure to fully lock the rod and then unlock it every time you open it up and collapse it. 
Third, check the foot seat and make sure it is durable. You should do this with any rod you purchase. Manufacturers looking to save money on materials or labor will sometimes cheat in this area. Make sure the telescopic rod you choose has a metal reel seat and that it is durable, easy to use, and can handle your type of reel. 
FAQ
The following are common questions consumers looking at telescopic fishing rods have.
How durable are telescopic fishing rods?
Telescopic fishing poles have more moving parts, which opens them to more issues than two or one-piece poles. The individual components (composite shaft, metal foot, eyelets, handle, etc.) are made from the same materials as other poles, so durability limitations are the same as regular poles.
Can a telescopic pole be a primary pole?
While most anglers would not opt to use a telescopic pole as a primary pole, given the quality of today's poles, there is no reason to rule out doing so. If you have limited storage space, it makes sense to use a telescopic pole as your primary pole. Additionally, it may make sense if you hike into fishing spots or travel a lot to fishing destinations. 
What fish can you catch with a telescopic fishing rod?
The same type of fish you can catch with any other fishing rod. The same strengths, liabilities, and performance exist in telescopic or two-piece fishing rods.
How do telescopic fishing rods work?
Each rod breaks into several lengths that are slightly smaller than the length closest to the fishing rod handle. To extend the pole, pull out each length until it locks in place. To collapse the rod, unlock each section and push it back into the section before it. 
Is a cork handle on a telescopic rod a benefit or drawback?
A cork handle has benefits and drawbacks, which are no different than a cork handle on a regular fishing rod. Cork or foam handles are comfortable and durable. The downsides are that both can get gauged and lose chunks of the handle. In terms of performance, cork handles work just as well on a telescopic rod as any other rod.
Can a child use a telescopic fishing pole?
That depends on the child. A very young child should not, as a telescopic rod has moving parts that can pinch small fingers. A child that is just learning to fish probably should not. If the child is a regular angler, a telescopic rod could make sense as a collapsed telescopic rod is more durable than a traditional rod.