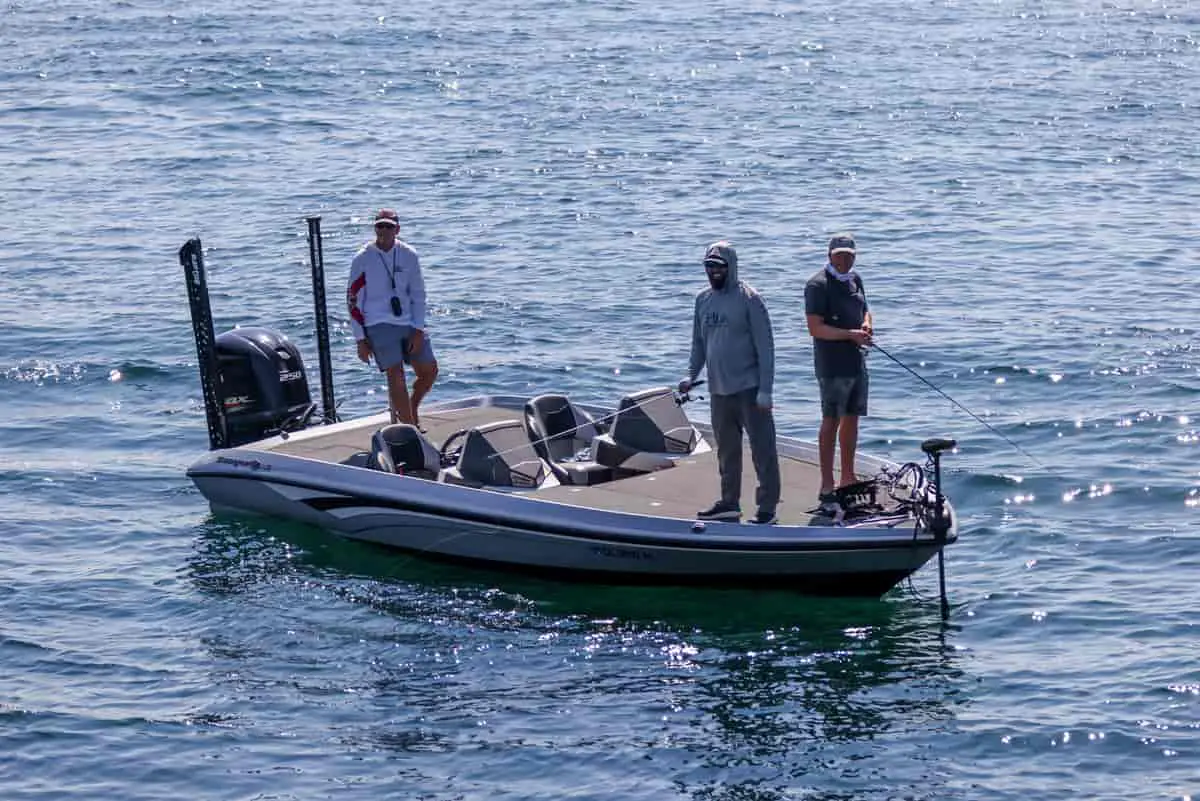 Deciding what line to outfit on your new reel can be overwhelming. It seems like every day, there's a new brand or a new product line, and of course, each one claims to be the best and most advanced fishing line on the planet. 
It's tough to separate real talk from marketing talk when choosing a line. Today, we're going to take a closer look at what some of the winningest pro anglers in the world use when they head into battle. 
Scott Martin
Scott Martin comes from somewhat of a royal family of fishing; his father Roland is one of the most storied pros of all time.
Scott's a helluva angler in his own right, and he's amassed more winnings than the majority of the pro circuit. 
Scott uses P-Line exclusively, and for most applications, he's spooling up P-Line X Braid with a P-Line Tactical fluoro leader.
Scott's an admitted "line watcher," so he goes for the hi-vis yellow colour, which makes seeing your line much easier, so there's never doubt if you're getting a bite. 
For topwater, Scott sticks with P-Line CSX mono. But, if he's ripping a topwater, or if there's heavy cover, he'll use braided line.
The logic here is that when you're working through heavy cover or working a fast retrieve, the fish aren't seeing your line anyway, and the properties of braid make it attractive for muscling a big fish from cover.
Skeet Reese
A 7-time BASS champion, and one of the most decorated anglers on the pro tour, Skeet Reese is an angler who needs no introduction.
He's one of the winningest pros in the business, and he also fishes one of the more simple setups of any pro angler. 
Skeet keeps it simple with his 50-50 approach to fishing line. Half his rods are spooled up with Berkley Nanofil braid, while the other half sees Berkley Trilene 100% fluorocarbon. 
Skeet adds a 5-6 foot Trilene leader to his braided setups when fishing in clear water.
Instead of using mono for topwater fishing, Reese reaches for Spiderline Ultimate Braid and ties whatever lure directly to the braid. He doesn't even bother if the water is dirty, instead of tying directly to the braid. 
Gerald Swindle
Another heavyweight pro, Gerald Swindle, has amassed over 50 top ten finishes over his 25+ year career as a pro angler.
Gerald uses one of the most varied setups of any pro, using several different line types depending on what he's throwing and where he's fishing. 
All Swindle's spinning gear gets spooled up with Sunline SX-1 braid with a 6-foot leader of Sunline Shooter fluoro. If he's flipping through heavy cover or frogging, he'll go with the more robust SX-2 braid. 
For his baitcasters, almost everything gets spooled up with Sunline Shooter. When fishing topwater, GMan employs a varied approach. He uses fluoro or braid most of the time but still reaches for mono if the mood strikes him. 
Rick Clunn
Rick Clunn is one of the most old-school pros on the tour, and he's not one to get caught up in all of the technology that's set the fishing world on fire over the last few decades. 
Rick uses Bass Pro Shops Signature Series almost exclusively, and he finds that it's what works best for the way he fishes.
Rick throws lots of larger lures into heavy cover, and he has a unique fishing style that's much more brute force than finesse. 
For these reasons, Rick throws heavy monofilament almost exclusively. It seems to have served him well, as he's amassed millions in earnings over his career. But, keep in mind that not everyone fishes, or, more accurately, not everyone CAN fish the way Rick does.
Aaron Martens
Tour pro Aaron Martens lost his battle with brain cancer this past year, and he left behind one of the most storied careers of any pro angler.
Aaron relied on a similar setup to Gerald Swindle, and it seems to be serving both of these gentlemen well. Martens takes a slightly different approach to GMan as far as how he employs each line, though. 
Martens reaches for Sunline fluorocarbon for virtually all of his fishing, and he switches it up depending on the temperature. Martens goes for Sunline Shooter on warm days, and he switches it up with Sunline FC Sniper when the temperature drops. 
The only time Aaron isn't throwing fluoro is if he's fishing topwater baits. For topwaters, he spools up Sunline SX-1 braid with a four-foot leader of 20-pound Sunline Shooter. 
The most interesting thing about Aaron's gear is how he switches his fluoro out based on air temperature. The logic checks out, and if it's working for Aaron, it might be something worth trying out yourself. 
Kevin VanDam
If there's one angler on our list who requires no introduction, it's Kevin VanDam. Kevin's name has become so ubiquitous in bass fishing that the mere mention of the letters KVD conjures up images of the winningest man in bass fishing history. 
Like many of the pro tour anglers, KVD keeps it relatively simple, and he throws fluoro for almost everything he's fishing. According to Kevin, he's throwing fluoro on four out of five of his setups. He occasionally works in some braid or mono for topwater fishing. Outside of that, it's all fluorocarbon. 
KVD reaches for Bass Pro Shop XPS fluorocarbon for most of his fishing.
Depending on the lure he's throwing, and where he's fishing in the water column, he'll switch up the pound test anywhere from 10 lb – 16 lb to get his baits where they need to be. 
Greg Hackney
A seasoned pro with decades of experience beating up on bass and taking home major prize money, Greg Hackney has seen just about everything over the years as a pro angler.
He seems like one of the most exciting anglers on the tour to talk shop with, and he's quick to offer some sage advice about fishing lines. 
Greg throws a mix of fluoro and braid, depending on the techniques he's using and the baits he's fishing. While Greg uses mostly Gamma Edge fluoro, he adjusts the line diameter regularly depending on how he wants his bait to behave in the water.
Greg also tends to fish slightly heavier lines than many other tour pros, so he has an easier time muscling larger fish. 
Hackney sticks with Gamma Braid for topwater and he has one cardinal rule when fishing braided lines. Never black, and never white. While other colors are debatable, Greg's convinced that smart bass have no trouble seeing black or white line and will sometimes adjust their feeding as a result. 
Jacob Wheeler
He's one of the young guns on the tour, but Jacob Wheeler is an old soul regarding the type of line he employs.
Jacob almost exclusively throws Sufix Siege mono when he's fishing, and he doesn't buy into a lot of the tech talk and marketing speak that is inherent with the latest fishing lines on the market. 
Occasionally, Jacob will throw braided line, and he attaches a 12″ leader of Sufix Elite mono to that for an element of stealthiness.
When it comes to fluoro, Wheeler isn't willing to sacrifice the stretchiness and shock absorption of mono, so he stays away from it almost entirely.