Scientific evidence shows that kids who engage in recreational fishing undergo improvements in their behavior and overall mental health. 
The little ones get Vitamin D from the sunshine while learning a valuable survival skill. Imagine the pride on your child's face when they catch their first fish. 
I remember my first catch to this day!
However, this magic moment cannot happen until you find the perfect-sized fishing rod for your child.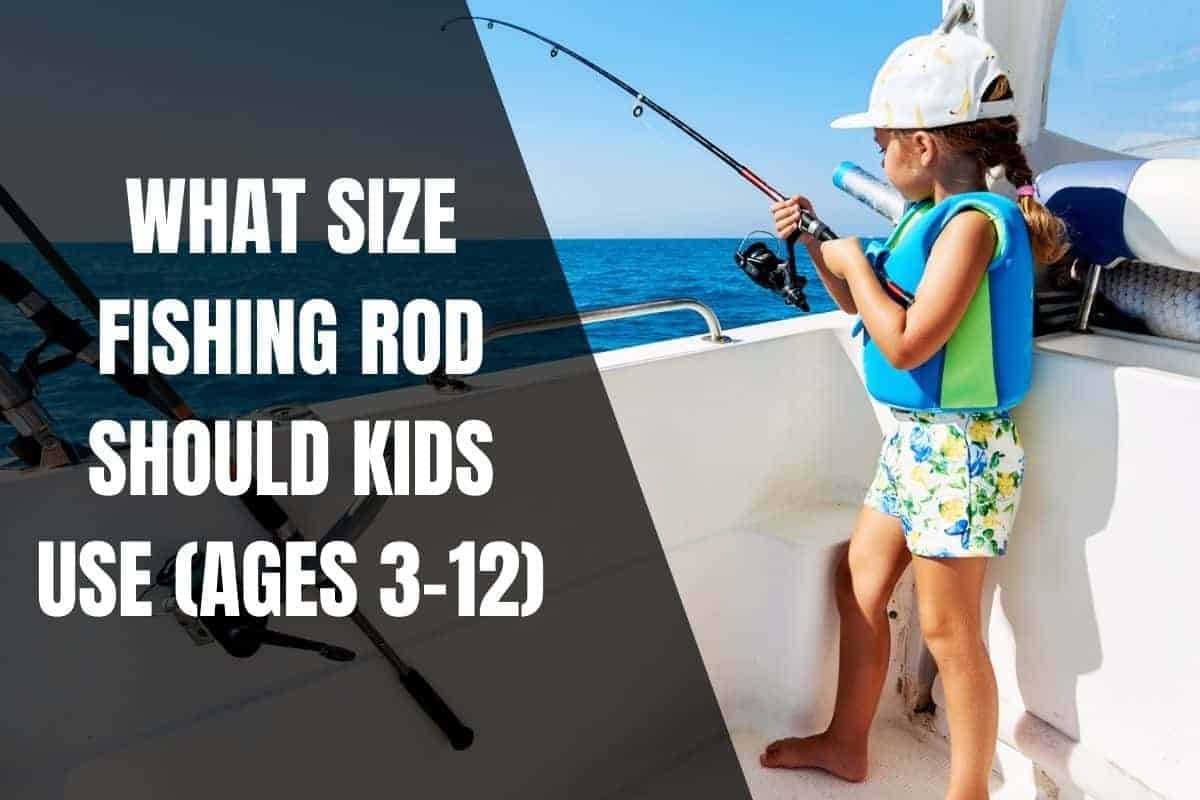 Why Kids Need a Certain-Sized Fishing Rod
A child needs a specific-sized fishing rod that is lightweight and easy to hold.
Imagine if you were a young four-year-old having to handle a 10-foot fishing rod. If I were a four-year-old child attempting to cast a 10-foot fishing rod, I would feel frustrated. 
I could imagine myself constantly dropping the rod while trying to cast it and eventually giving up because it would not work for me. 
The average four-year-old stands at 40 inches (3 ⅓ feet) tall, so it would not be safe to handle a 10-foot fishing pole three times their height. 
Hence, starting with a smaller fishing rod is optimal for enhanced handling and seamless casting.
The Best Performance Features for a Kids Fishing Rod
Most kids' fishing rods have bright, fun colors or cartoon characters for more appeal. 
I would fancy a Teenage Mutant Ninja Turtles fishing rod if I were a kid!
While these are lovely aesthetic perks, performance features matter more. 
The material used for manufacturing, the reel style, and the fishing rod length are features to look for when shopping around.
Each feature contributes to the size and overall feel.
Material Used
Especially since some little ones are clumsy, the material used in the fishing rod's composition matters. A more durable material helps the fishing rod to last longer even if dropped or accidentally stepped on during a fishing trip. Hence, you will not have to replace a fishing rod every trip. 
Bamboo
Bamboo fishing rods are highly durable and flexible and can last longer than fishing rods made with other materials. 
A bamboo fishing rod weighs even less than the standard fiberglass model. Lighter-weight fishing rods are ideal for younger hands who are training to be novice anglers. 

While other conventionally made fishing rods could break from the force of a hooked fish attempting to get away, bamboo is flexible and durable enough to withstand a fish's resistance when caught on a hook. 
Composite Blends
Composite blends for manufacturing fishing rods involve two base ingredients for their structure. Glass and polyester or glass and epoxy make up a fishing rod with a composite blend. 
Fiberglass mixed with graphite is another composite blend used for fishing rods. 
Fishing rods with composite materials cost more than a fiberglass rod. However, they are cheaper than graphite ones. 
A composite fishing rod can also stand the test of a large fish at the end of the rod so that it does not snap. 
Fiberglass
I would recommend fiberglass as a kid's first fishing rod because they are great for novice anglers. They can hold up to the wild movements that beginning anglers may do when trying to cast or reel in for the first time. 
A fiberglass rod is more cost-effective than a graphite rod. Despite its budget-friendly price tag, it is not as sensitive as graphite. Hence, the little ones may not notice that a fish has bitten as quickly as you can tell with a graphite rod. 
Graphite
Graphite rods are flexible, durable, and lightweight. They are even lighter than fiberglass fishing rods. 
Since it has a high sensitivity amongst the other materials, anglers prefer this material to pick up on a fish's bite faster. 
As your little one gets to be an older child in his or her preteen years, they could start handling a graphite rod. 
Reel Style
The reel style is the method used to collect the line back onto the reel. There are open-faced spinning reels or closed-face spincast reels. 
For a quick visual comparison of different types of fishing rods for novice anglers, watch Salt Strong's two-minute video. 
Spinning Reels (or Open-Faced)
You can see the fishing line on the reel with an open-faced rod. When your child casts the rod, the fishing line will stop uncoiling for an easier reel in. It will not keep unraveling and fall off sometimes like a closed-face reel may do if it malfunctions. 
Spincast (or Closed-Faced)
Also known as push-button reels, I recommend this reel style for novice anglers. All your little one has to do is push the button as they cast the fishing line into the water. 
Fishing Rod Length
Fishing rod length is an important key feature when you shop around for kid's fishing rods. Choosing a shorter rod that fits your child's size will result in more accurate casts. 
Three-year-old children can use up to a three-foot fishing rod. When they are between the ages of five to nine, kids can graduate to a fishing rod that measures five to six feet in length. 
Once a child hits ages 10 to 12, they can use up to a seven-foot-long fishing rod, but it should not go over this length. 
A ten-year-old may measure 50-59 inches in height, which is under 5 feet. A twelve-year-old will average 55 to 64 inches. The tallest of twelve-year-olds at 64 inches will be over 5 feet. 
Hence, your child's fishing rod length should roughly equal their current height. 
If your child has a better handle on casting the line and reeling in, they can use a longer rod that measures 6 to 7 feet. 
The Risks of Child Using Too Large of a Fishing Rod
If a child uses too large of a fishing rod, risks can occur such as: 
The fishing line tangles up (unless they have the no-tangle version). 
Poor handling of the rod because of high weight or long length. 
Constantly dropping it. 
Inability to cast properly if the handle is too big. 
The rod breaks one way or another if the child gets too frustrated handling it. 
The hook can get caught on a nearby tree or graze someone's skin with continuous improper handling. 
The Best Fishing Rods For Kids Ages 3-12
I recommend for a first-time young angler use a rod and reel combo with spincast capabilities. You can pick up a kids' ready-to-fish kit from your local Walmart or shop on Amazon. For more premium quality kids fishing rods, try Dick's Sporting goods. 
These are the top 3 best fishing rods for kids ages 3-12. 
Shakespeare Customize-It Spincast Reel and Fishing Rod Combo
The Shakespeare Customize-It Spincast Reel gives your child the best features of a novice angler rod. Plus, before you take them fishing, you can have them decorate the rod with the 170 complimentary stickers. 
If you have markers or paint pens, you can decorate the rods using these mediums as well. However, there are no extra decorating accessories in the package besides the stickers. 
Pros
The spincast reel was easy for novice anglers. 
The fishing line is pre-spooled to fish right out of the package. 
Kids can customize the rod with art and stickers to make it their own. 
Can catch fish up to 2.5 pounds. 
Cons
The fishing line it comes with is weaker than other comparable lines on the market (you can re-spool the line if you would like). 
The reel could come off the rod if not careful. 
ODDSPRO Kids Fishing Pole – Kids Fishing Starter Kit
The ODDSPRO Kids Fishing Starter Kit will give your young angler everything they need for their first fishing trip. 
A rod and reel combo fishing rod is available in different lengths ranging from 3.94-foot to 5.91-foot rods. 
Kids ages 3-6 can use the 3.94-foot rod. Children aged 6-10 can use the 4.92-foot rod. If your preteen or teenager is aged 10-15, they should use the 5.91-foot rod. 
There is a tackle box filled with faux bait, bobbers, hooks, and a practice plug. 
Pros
Known as an Amazon's Choice product. 
Comes with a carry bag for easy traveling. 
Different rod lengths to accommodate based on different ages. 
Instruction manual included for easy casting tips. 
Cons
Rods only come in 3 colors. 
Only has right-hand orientation rods. 
FAQs
Here are some of the most common questions regarding finding the right-sized fishing rod for kids ages 3-12.
What does a kid need to fish?
Your young angler will need a fishing rod as well as safety equipment such as a life vest depending on the location of the excursion. A bobber is also a great idea for kids with little to no experience so they can have a visual indication of when they have a bite. The rest of the supplies should be your usually fair for fishing that you would already bring with you on any trip such as bait, fishing license, water, and maybe some snacks and music. 
How to make fishing fun for young new anglers?
The best way to get kids engaged in a new activity like fishing is to give them a little bit of agency. Let them have a say in their bobber, bait, and lure; you might even let them choose the specific location for the day if you are willing. As long as you pay attention to the needs of your kid while positively teaching them, they will more likely begin to develop positive feelings toward fishing.
Should a kid have their own tackle box?
That's a great idea. They should if you are willing. Let them begin to build a relationship with the activity and allowing them to have their own tools for the job will only increase their bond with fishing. However, please make sure you aren't going all out on your child's first tackle box. Start cheap and work your way up as their enthusiasm grows.