Have you ever found yourself reeling in your line until your arm started to hurt and wished there was an easier way? Well, there is! In recent years, electric fishing reels have been entering the market, making them more accessible for the everyday angler.
Historically, electric reels have been around for a while now and were mainly used in commercial fishing.
Now you might be thinking to yourself, "What is an electric fishing reel" in the first place?
Electric fishing reels operate similarly to a manual conventional fishing reel. Electric reels uses an electric motor to reel the line for you. Electric fishing reels are commonly used at depths greater than 300 feet and when targeting large fish like halibut, swordfish, and tuna.
Using an electric reel sounds pretty great, but it does come with its pros and cons.
Pros
Easier to reel line up from deep waters.
Easier to fight against fish that tend to pull drag hard.
Conserves energy and is easier physically when spending all hours on the water fishing.
More expensive reels come with other features like variable reeling speeds, automatic drag systems, depth counter, etc.
Cons
Typically more expensive than conventional reels.
Need to make sure electric reels are powered.
Tangles and bird nesting can be 3 times worse than conventional reels if not used correctly.
Can be hard to learn how to use especially if you're a beginner.
Can take the fun away from the excitement of fighting a fish.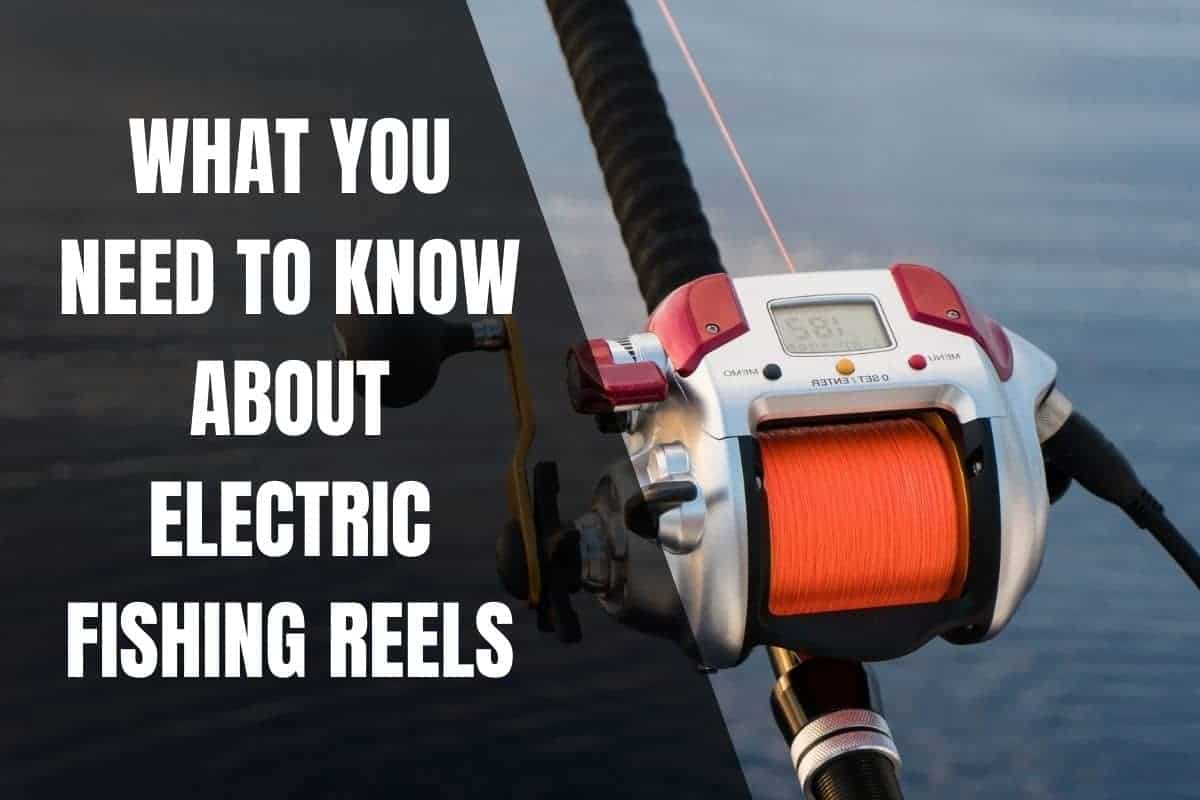 What Are The Different Electric Reel Types
Since electric fishing reels are mainly used for deep sea fishing there is not much selection when it comes to different styles of reels.
The majority of the electric fishing reels that are available in the market today are typically designed as:
Conventional / Trolling Reels
Spinning Reel
Conventional/trolling electric fishing reels make up most of the electric reel market. There are a few electric spinning reels that are slowly making their way into the market as well but they are not as popular.
Are Electric Reels Cheating?
Now you might be wondering if an electric reel does all the hard work for you then is using electric fishing reels cheating?
You might hear from some anglers that using an electric reel is cheating. However, I don't so think.
Using an electric reel is absolutely not cheating! An electric reel brings other problems and if you don't have the experience behind you then a slight mistake can result in you losing a fish or becoming tangled just as easy as a conventional reel.
There could be a wide range of reasons why an angler decided to use an electric reel from an injury to just wanting to relax on the water.
You do you!
When Should You Use An Electric Reel?
When should you use an electric fishing reel is completely up to you. Some anglers like the ease of flipping a switch and having the reel pull up a monster fish. Other anglers like to fight the fish by hand and pass out once they landed the fish.
Personally, I like the battle and like to think it helps keep the weight off the midsection.
Nonetheless, there are a lot of reasons why an angler would opt to use an electric reeling:
Deep Sea Fishing: An angler may not want to spend an hour trying to reel up their line just so they can move the boat. Other anglers might be fishing by themselves and know they would not be able to fight a big fish that is very deep.

Injuries: Some anglers just might want to enjoy the act of fishing and don't want to be stopped by an injury. Sometimes fighting a fish can take a toll on the body and if you are nursing an injury or just don't want to risk the chances of being injured then using an electric reel might be a good option.

Senior Anglers: Don't let age stop you from enjoying the water and doing some fishing. If you're worried that fishing might be too exhausting or could lead to an injury then using an electric reel for a senior might be a great way for them to participate in catching their trophy fish along with everyone else without the risk.

Disabled Anglers: Every disability is different but there are disabilities and amputees that would make it difficult to use a typical reel. Using an electric reel would be a fantastic way to have someone with a disability or an amputee join in on the fun.

Children: If you are doing some big game fishing and decide to bring along the kids for the fun then you want to have them join in on the excitement. If you got hooked onto a fish then you just have to flip a switch and have the kids hold on to the rod to give them the feeling that they are participating.
Are Electric Fishing Reels Legal?
I spent a fair bit of time checking if using electric fishing reels is legal in the USA, Australia, United Kingdom, and Canada.
My findings are that using electric fishing reels is legal. That being said, I did see some rules around using an electric fishing reel for some of my local regulations.
My findings are that if you're disabled then you are allowed to use an electric reel indefinitely but if you're able-bodied then they might be situations where using an electric reel might be limited or have particular rules.
You need to check your local fishing regulations to make sure you are following the rules.
How Does An Electric Fishing Reel Work
There is no major difference between an electric fishing reel and a traditional manual fishing reel. The majority of the components are the same instead of the reel's handle where there is a small electric motor instead.
Depending on how expensive the electric reel is you will find that there might be additional features that you don't see on a traditional reel. Some extra features include:
Automatic adjustable reeling speed
Automatic adjustable drag system
Line counter and line drop settings to hit certain depths
How To Power An Electric Fishing Reel
If you ever had to reel an 8 oz weight back up from 400 ft of water you know it can take a toll on you. Reeling up a big fish or having to reel 400 ft is a lot of work regardless whether you turn the reel or a small electric motor.
For this reason, every electric fishing reel will need to be powered by a strong and reliable battery.
Do Electric Fishing Reels Need Batteries?
Electric fishing reels do require batteries. However, these are not just any old batteries like the AA batteries you can pick up at the nearest corner store.
Because electric reels do draw a fair bit of amperage and require decent voltage, you will need specialized batteries for an electric reel.
It's highly recommended to use a marine deep cycle battery for the best and longest performance.
If you try to use a different form of battery instead, aka a car battery, then the electric reel will work fine for a bit. However, the electric fishing reel will draw more amps than a car which will drain the battery much faster. Therefore, depending on how hard your electric reel is working your automotive battery might only last between 1 – 4 hours.
A deep cycle battery is designed to handle high amps and can hold a charge much longer.
How Many Amps Does An Electric Reel Draw?
How much amperage an electric reel draws is dependent on how hard it is to work. That being said there are typical ranges that are common across multiple electric reel manufacturers.
| Typical Voltage Range | No Load | Rated Load | Max Load |
| --- | --- | --- | --- |
| 12V – 24V | 4 Amps | 5 – 10 Amps | 20 – 30 Amps |
Typical Electric Fishing Reel Amperage Draw
Whenever you are selecting a battery for your electric reel always refer to your electric reel's manual for recommended battery specifications. You can run the risk of damaging your reel if you use a battery that has a higher voltage rating than your reel.
Every reel will have different requirements so you will need to check this before hooking up any power source to your fishing reel.
If you are looking for a portable battery for electric reels that is highly recommended then you need to check out:
Electric Fishing Reel Portable Battery From BatPower
Rechargeable
Compatible with a wide range of electric reels
Long-lasting
Light Weight
Charge your phone with its built-in USB port!
How To Use An Electric Fishing Reel
Every reel will work slightly differently but most of the electric reels will work about the same. It goes without saying that you should always refer to your electric reel's manual on how to use your particular electric reel.
However, if you're looking around and curious about how these electric reels work. Then check out this insightful video as they describe how their Shimano Dendou Maru 9000 works:
Now if you are curious about how these electric reels work when fighting a fish then you are in luck. Our Australian friend was able to hook on to a large fish and they were able to film the action for us and how well these reels work.
How Much Does An Electric Fishing Reel Cost
It should be of no surprise that with all these electronics and features that there will be a decent price tag. Similar to conventional reels they can range between a few hundred bucks to a couple of grand.
I've summarized the average cost of one of these electric reels so that you can better understand how much one of these will set you back.
Price Range
Reeling Speed
(ft/min)
Drag
(lbs)
Mono Line Capacity
(yd/lb)
Braid Line Capacity
(yd/lb)
$300 – $500
460 – 560
20 – 30
300/20 – 400/30
328/60 – 328/80
$500 – $999
500 – 600
30 – 48
450/30 – 500/40
550/65 – 880/80
$1,000 – $6,500
5 – 750
40 – 150
950/80 – 1200/100
2445/100 – 3000 / 80
Price Ranges For Different Electric Fishing Reels
If you can't afford the $300 – $500 price range for a new electric reel. Then might get lucky finding a cheaper brand but I would recommend you browse through your local online marketplace to see if someone is selling a used electric reel or call up local fishing charter companies if they planning to sell one soon.

By doing this you can get an electric reel for less than half the price of a new one!
What Are The Best Electric Reels In The Market?
There are a lot of good electric fishing reels available in the market that covers a wide range of applications. It should not surprise you that some of the top brands for electric fishing reels are also the top brands of traditional fishing reels. Here are my top favourite electric fishing reel brands:
Daiwa
Shimano
Penn
Hooker Electric
Fish Winch
If you want to check out an electric reel at a lower price point from a reputable brand then you can go wrong with Daiwa. They have taken the lead on electric fishing reels and have many great options for anglers looking at any price point.
Electric Fishing Reel Leo Blitz S400 From Daiwa
Easy to use!
Creates about 24 lbs of drag
12V Motor
Lightweight (1.2 lbs)
Can hold 600 ft of 65 lb braid
Highly recommended by anglers
A Japanese Product – Built with quality in mind!
Happy Fishing & Tight Lines