When researching what type of fishing line you need, one of the factors you should consider is line stretch. Line stretch can be used to your advantage when fishing, but it can also hurt your ability to catch fish if not used correctly. This is why it's crucial to understand what type of fishing line will stretch and which will not. 
Monofilament lines will stretch roughly 10% – 25% of their length uniformly. Fluorocarbon lines will stretch about 10% – 25% of their length, but most of the stretch occurs beyond 50% of the line rating. Braided fishing lines will not stretch at all.
Line stretch is something that most of us never consider until you've been burned by it a few times. Line stretch is like a double edge knife. If used correctly, it's incredible! If not used correctly, it will give you nothing but headaches. 
Let's explore line stretch in more detail!
Check out my list of fishing lines with the most and least amount of line stretch.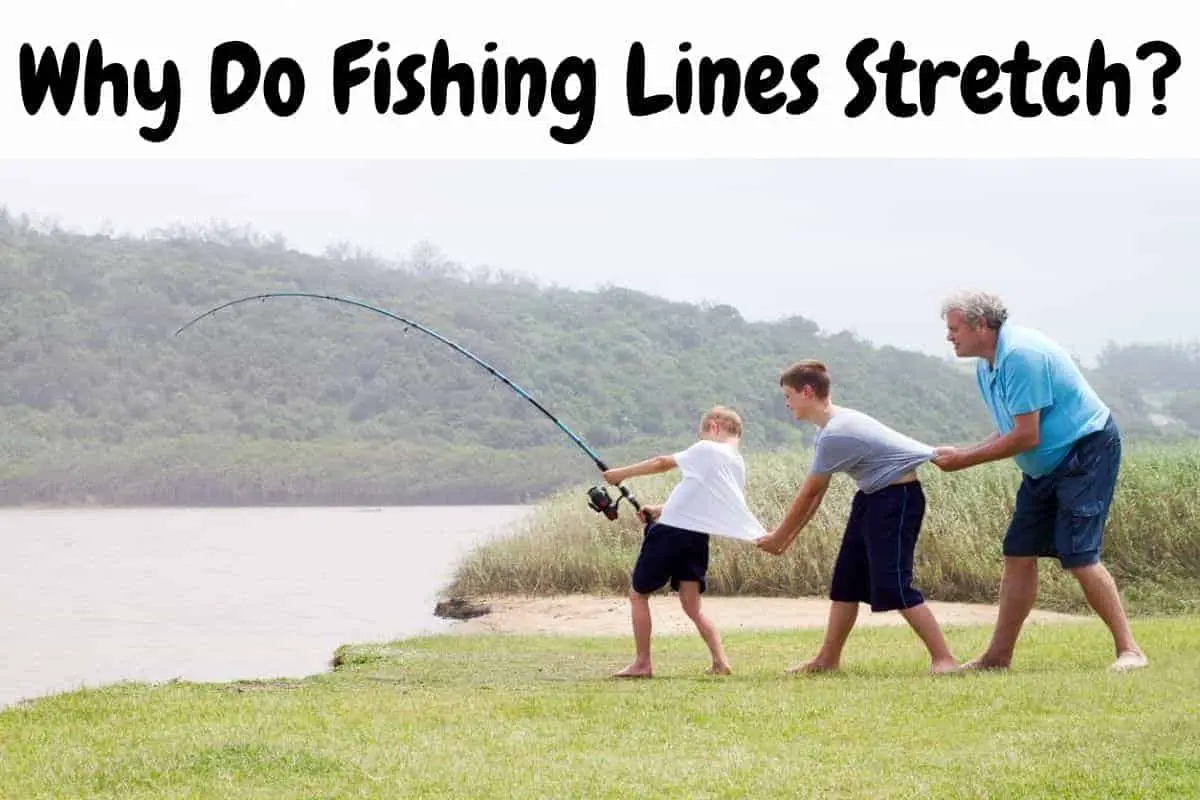 Advantages And Disadvantages Of Line Stretch
A bit of stretch in a line is needed if you're fishing for large or hard-hitting fish. An aggressive fish like a barracuda can reach speeds of up to thirty-six miles per hour when grabbing your bait.
A fish striking your bait at such high speeds will test even the best equipment to the limit. Having a good quality line spooled on your reel allows the line to stretch without breaking until the rod's flexibility and the reel's drag can kick in to absorb the shock.
On the downside, having too much stretch in your line can lead to missed bites because the line stretch absorbs the tugging sensation when a fish bites. If you managed to feel the bites, then when you try to set the hook, excessive line stretch will absorb the force you applied, reducing the force on the hook end, leading to missed or bad hookups.
What Happens To Your Fishing Line When It Stretches
A fishing line will stretch to resist a load by pulling back on the fishing line to its original length. Think of it as stretching a rubber band. 
Before any load is applied, the line's molecules are held at a particular distance apart from each other. When a load is applied, the molecules are pulled apart. As the molecules travel further apart, the greater the force becomes to bring them back to their original distance.
If the load is large enough, it will permanently stretch the line, and the line will not return to its original length. This happens because the molecules are pulled apart far enough to break free from the bond with other molecules. If this were to happen, it's a sign of a weak point along the line, and the line should be replaced. Unfortunately, because the line diameter is small, it could be hard to see this happen visually.
Necking Occurs As Fishing Line Stretches
In material science, there is a phenomenon called "necking," which occurs when an object is stretched. Necking is a term that describes how material becomes thinner (usually in the middle of the object) as its being stretched.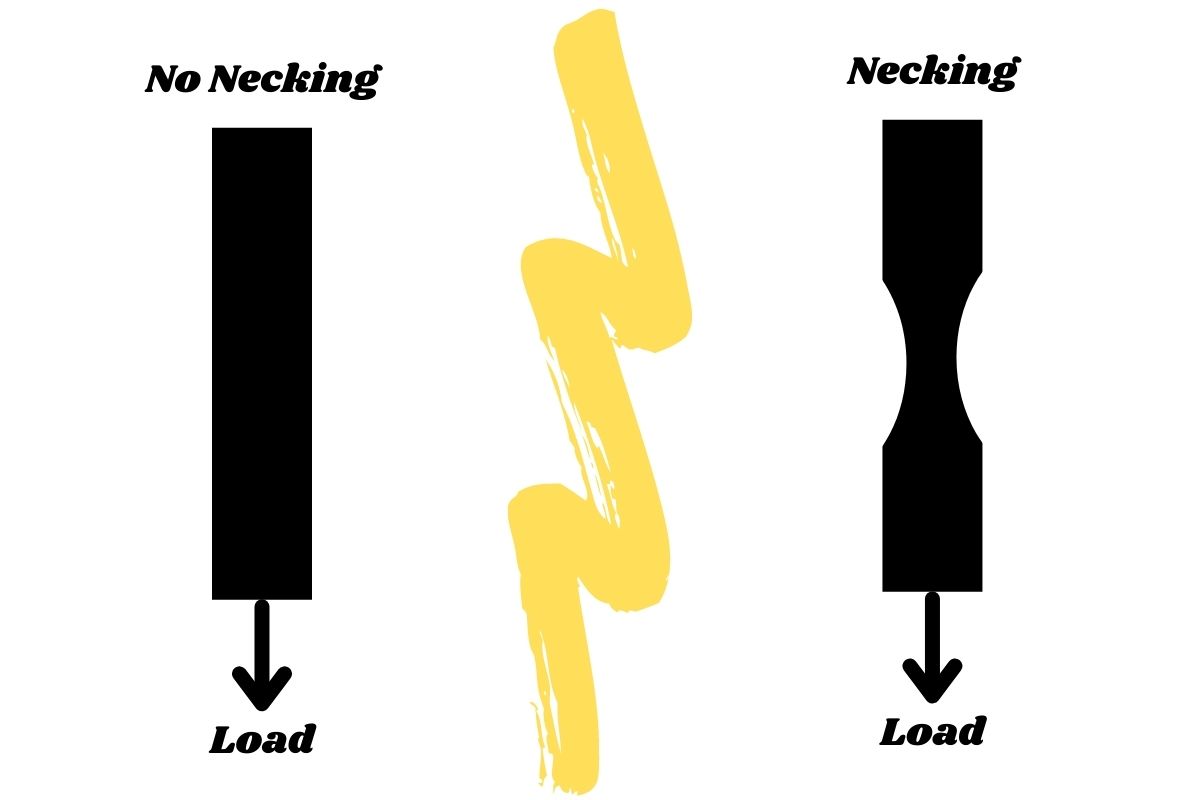 Necking is important to understand because as a section of the line becomes thinner, it produces higher stress in the line, which predicts where the line will break first.
If your fishing line has any defects or damage within the section where necking can occur, it results in concentrated stresses. This can cause line breaks much sooner than anticipated.  
Line Stretch For Monofilament Fishing Lines 
Monofilament lines are manufactured from either Nylon or a combination of different plastics. The mixture of plastics used will result in a certain amount of stretch in the line.
Here is a list of commonly used plastics for monofilament fishing lines and their ability to stretch:
| Typical Monofilament Fishing Line Material | Rough Stretch Amount |
| --- | --- |
| Nylon | 15% – 30% |
| High-Density Polyethylene (HDPE) | 0% – 8% |
| Polypropylene (PP) | 15% – 22% |
| Polyester (PES) | 0% – 5% |
| Polyvinylidene difluoride (PVDF) | 15% – 30% |
On average, most monofilament lines will stretch between 15% – 25% of their length. The premium lines can stretch as high as 30% and as low as 10%.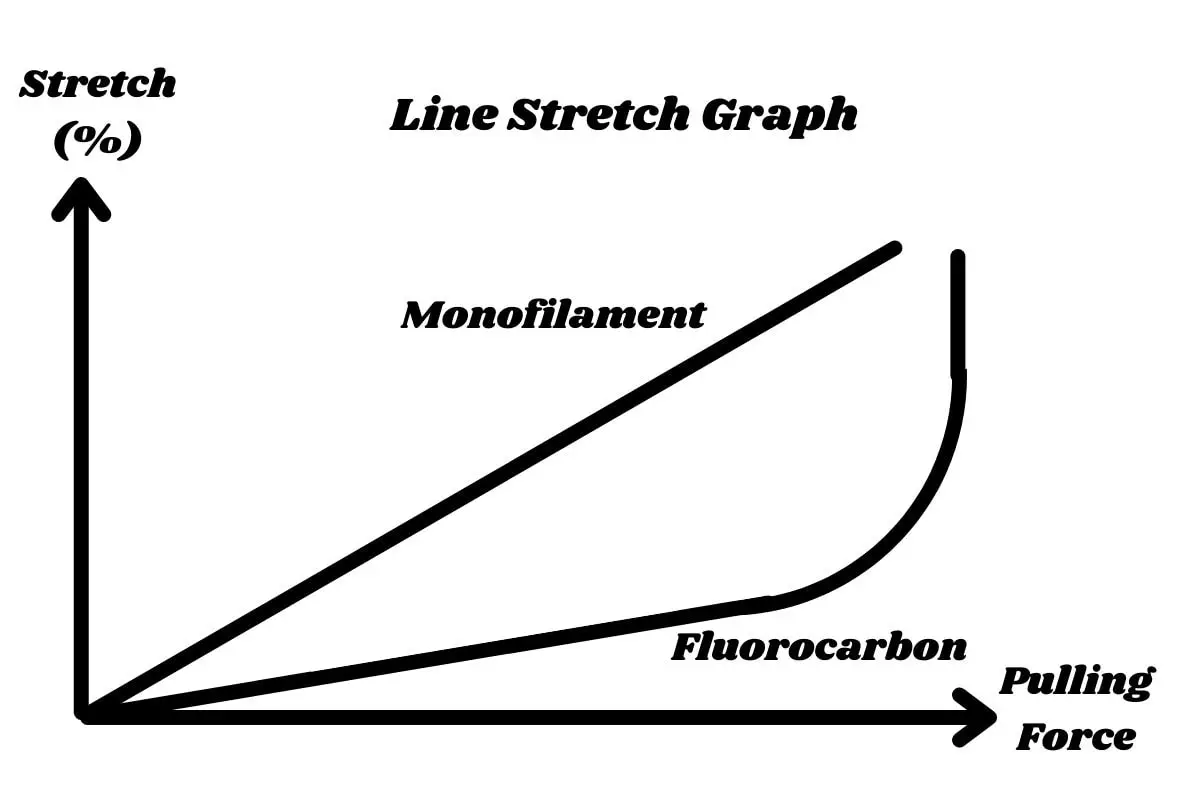 Line Stretch For Fluorocarbon Fishing Lines
Fluorocarbon lines are manufactured from Polyvinylidene difluoride (PVDF). PVDF is a highly stiff material, but PVDF material can stretch despite popular belief.
Even though PVDF can stretch, it is very different from monofilament fishing lines. Mono lines have a tendency to stretch linearly, whereas fluorocarbon lines do not. Fluorocarbon lines don't stretch that much for the first half of their rated strength.
Around 50% of the fluorocarbon's rated strength, the amount of stretch will exponentially increase. This allows fluorocarbon to quickly catch up to the same amount of stretch that monofilament can have.
Graph of Mono vs Fluorocarbon
On average, most fluorocarbon lines will stretch between 15% – 25% of their length. The premium lines can stretch as high as 30% and as low as 10%.
How To Test Your Own Line Stretch
It's not difficult to test your line's stretch, but setting everything up will require some time.
If you're looking for a quick and dirty setup, you can check out the video below. 
This method gives you a rough idea of how much stretch your line has for a given load and a good understanding of how the weight will move as you pull on the line.
This is a pretty simple setup needing only a weight, measuring tape, two cameras, and a smooth surface, so you don't break the line from abrasion as you pull.
But this method will not give you information about how your line will stretch as the load increases. If you're interested in this, the next video offers a good example of a rig to do this. 
Happy Fishing & Tight Lines