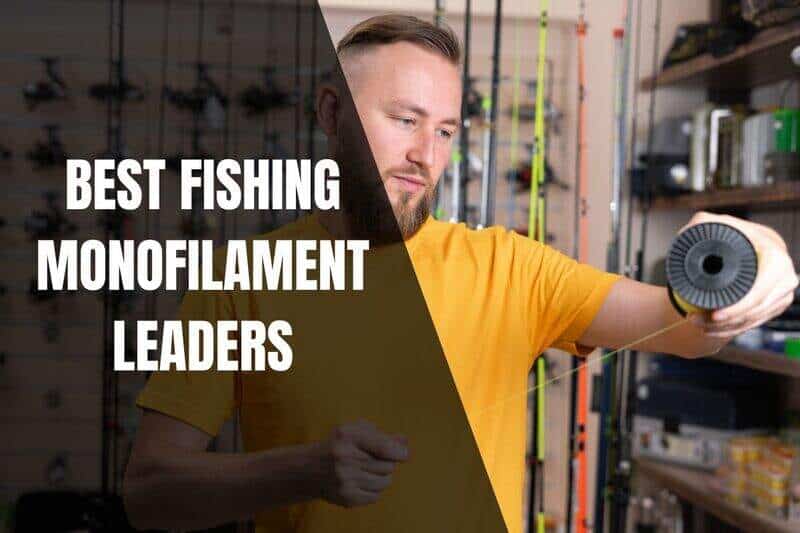 Choosing the best monofilament leader can drastically improve your bites. Monofilament fishing leaders have many properties that will improve your bait's presentation. In this guide, I reviewed and ranked the best monofilament leaders that you should be fishing with.
The purpose of fishing leaders is to:
improve bait presentation
protect your mainline
prevent your line from breaking off
In order to choose a monofilament leader that is right for you, you will need to understand the basic properties of monofilament lines:
When it comes to making your leader lines for your situation, there is no exact guide. It's more of an art and skill you develop over time. Determining how long your leader line needs to be and how strong your leader needs to be is completely dependent on your situation.
When trying to pick the best monofilament fishing leader can be daunting. There are tons of different products on the market today trying to sell you why they are the best. There are just a handful of solid monofilament line brands that I like and have demonstrated why they are the best.
Want proof? Just check out what monofilament lines the professional anglers use!
The history behind monofilament lines is pretty interesting. After being invented accidentally, the fishing industry realized that it could be used as a fishing line. Over the years, tons of money have been poured into improving monofilament line manufacturing processes and performance.
If you are looking to catch more fish, then you need to check out these best monofilament leaders!
What are the Best Monofilament Leaders On The Market Today?
Here are my top picks for the best monofilament leaders you need to try.
The Best Monofilament Leader Overall
Brian's Thoughts
When it comes to monofilament lines, there are a lot of options available today.
In fact, monofilament is one of the oldest and most commonly sought-after leaders and lines on the market. They have a wide range of weights to choose from, going up to well over 100 pounds.
KastKing has an established reputation for providing some of the most durable and long-lasting monofilament lines available.
Using a custom DuraBlend material, they are able to produce their monofilament line with the highest level of quality control to ensure that they are able to maintain high tensile strength and very low memory characteristics while still being flexible and soft.
Pros
Award-Winning Brand
Extremely Durable
Abrasion Resistant
Great Shock Strength
No Memory
Cons
Not the Best for Small Game Fish
Get Your KastKing DuraBlend Monofilament Leader Today!
The Best Monofilament Leader for Trolling
Brian's Thoughts
With so many great options to choose from, it's no wonder why anglers from around the world continue to select Hi-Seas monofilament lines over any other manufacturer.
Not only are their lines excellent for use in both freshwater and saltwater but they have even been used in the professional tuna fishing industry.
Each monofilament line is composed of a special, uniquely designed nylon blend that provides superior product performance and handling that is perfect for just about any situation. Their lines offer ideal sensitivity and control while simultaneously offering excellent abrasion resistance and low memory.
The Grand Slam monofilament line comes in a wide variety of line tests ranging from 5 lb to over 300 lb.
Pros
Extremely Tough
Easy to Knot
Excellent Abrasion
Unique Nylon Blend
Cons
Not as Strong As Fluorocarbon
Get Your Hi-Seas Grand Slam Monofilament Leader Today!
Best Monofilament Leader For High Knot Strength
Brian's Thoughts
Shaddock is known for offering a wide variety of high-quality monofilament leaders and lines.
Using their own custom blend of heavy-duty nylon, each monofilament line is designed to provide anglers with the best knot strength imaginable.
Their lines feature excellent abrasion resistance, as well as shock absorption, for handling larger game fish. This allows them to be used for catching fish that tend to strike harder than others. And, thanks to its ability to stretch as well as sink slower, it is the perfect option for any angler who is seeking to catch top-feeding fish.
The line is very easy to manage and extremely easy to cast. Best of all, unlike other monofilament lines which are rough, the smooth extrusion makes it more resistant to twisting and tangling.
Pros
Extremely Strong
Abrasion Resistant
Shock Resistant
Smooth Casting
Knot Friendly
Cons
More Expensive Than Other Similar Monofilament Lines
Get Your Shaddock Big Game Monofilament Fishing Line Today!
Best Monofilament Leader for Freshwater
Brian's Thoughts
When it comes to choosing a monofilament line, more anglers have turned to Berkley than any other manufacturer.
Their Trilene line of monofilament lines has been painstakingly designed to be perfect for sport fishing both in freshwater as well as saltwater.
The precision extruded nylon line is extremely sensitive while still being strong enough to resist hard bites by game fish. Not only is the line easy to cast even in a light breeze, but it is also resistant to abrasion.
This makes it perfect for dealing with a lighter-weight crank bait and spinner bait that is dragged through the water. The line is not stiff but does not stretch excessively either, making it perfect for anglers who want to feel even the most subtle bites from smaller game fish.
If you want to present your bait to a wide variety of popular sport fish with style and accuracy, then look no further than Berkley.
Pros
Strong Enough for Big Game Fish
Easy to Manage
Easy to Cast
Extremely Strong
Shock Resistant
Cons
Not the Best Option for Professional Anglers
Get Your Berkley Trilene Big Game Monofilament Fishing Line Today!
Best Monofilament Leader for Low Line Memory
Brian's Thoughts
Reaction Tackle has been providing anglers from around the world with some of the best monofilament lines and leaders in the market. Located in Wisconsin, every product offered by Reaction Tackle is manufactured and shipped from their warehouses within the United States.
The brand is also one of the most affordable on the market today, making it a popular choice for beginners and those with a limited budget.
The popular monofilament line comes in a wide variety of color options to choose from that are perfect for a number of different possible fishing environments.
The high-strength nylon line is abrasion resistant and is extruded to be perfectly round and smooth. This allows the line to be cast out with ease and ensures that it is less likely to snag or get tangled up.
Pros
High Quality
Extra Strong
Excellent Abrasion Resistance
Low Line Memory
Smooth Casting
Soft and Supple
Get Your Reaction Tackle Monofilament Fishing line Today!
The Best Monofilament Leader for Casting
Brian's Thoughts
Regardless of your age or experience, chances are you have heard of the popular Suffix a brand of monofilament lines.
Suffix Superior is one of the most popular monofilament lines available on the market today and for good reason.
Not only is it extremely strong and durable, but also offers very fast recovery and a high level of performance at a very affordable price. It has been rated time and time again as one of the best options available on the market when it comes to tensile strength.
In fact, The Professional of Sports Magazine has designated it the leader in the 130-pound class. Not only is it extremely tough and abrasion resistant, but has a perfectly controlled stretch which allows it to be used in a wide variety of situations.
Find out why so many anglers have chosen Suffix Superior over the years.
Pros
Superior Quality
Incredibly Strong
High Tensile Strength
Incredibly Tough
Abrasion Resistant
Controlled Stretch
Excellent Hook Setting Power
Cons
Not as Tough As Fluorocarbon
Get Your Sufix Superior Leader Today!
Best Monofilament Leader for Low Line Visibility
Brian's Thoughts
When most anglers think of lines that are virtually invisible underwater, the fluorocarbon lines are the first ones that come to mind. However, monofilament lines like the Hi-Seas Quattro can also disappear completely underwater.
Not only is this monofilament line extremely durable and strong, but it is also abrasion resistant too. Each spool is coloured in 4 scientifically designed and selected patterns of black, blue, green, as well as red.
They are specifically designed to keep the color patterns short in order to break up any visual impact that the line may have underwater, rendering it more difficult for game fish to see.
Whether you are fishing bluefish, stripers, grouper, marlin, or any inshore or open water fish, you are virtually guaranteed to catch a wide variety of large game fish with ease.
Pros
Perfect for Saltwater
Extremely Durable
Abrasion Resistant
Extremely Strong
Low Visibility
Camo Color
Cons
A Little Pricier Than Other Options
Get Your Hi-Seas Quattro Monofilament Fishing Line Today!
Is Monofilament Line Good For Leaders?
Monofilament fishing lines make great fishing leaders. Monofilament leaders provide many benefits, such as shock absorption by having a lot of line stretch, slow sink rate, moderate abrasion resistance, and moderate line memory.
Is Mono Or Fluoro Better For a Leader Line?
There is no definite winner between monofilament vs fluorocarbon leaders. Depending on your situation, one would be better than the other. Mono is great when you need line stretch, a slow sink rate, and better bait presentation. Fluoro is great for abrasion resistance and low line visibility.